Corporate Christmas parties can be a fairly big event on the yearly calendar! They're a chance for staff members to relax a little and let their hair down, and to celebrate achievements during the year.
The dress code can be a bit confusing, though. It might seem like formal dress is the safest choice, but it's actually OK to wear whatever outfit you want!
However, if you're attending one of these parties with your boss or senior staff members then you should show more respect and opt for something elegant.
November and December are the months when many businesses host holiday parties and work events. Some are simple office gatherings during the day, while others are more involved at night.
Given that it's not simply another day at the workplace, you'll undoubtedly be thinking about what to wear as party day approaches.
You want to have a good time with your clothing while keeping in tone with the rest of your colleagues!
Outfits for parties during work hours

Some businesses choose to have intimate gatherings during standard work hours. If this is the case for you, you'll probably pick work-appropriate clothing. However, don't be hesitant to dress up a little bit with a nice dress or shoes or a fun holiday-inspired blazer with a little glitz. Unless you're given specific instructions on how to turn up, this should be more than OK with your employees.
Outfits for parties after work hours
After-hour holiday parties might be a lot of fun. They allow you to relax, unwind, and connect with co-workers outside of the normal workplace atmosphere. That said, don't think that you can forget about your co-workers and the party when you're having fun. You want to have a good time, but keep in mind that you shouldn't go out of control!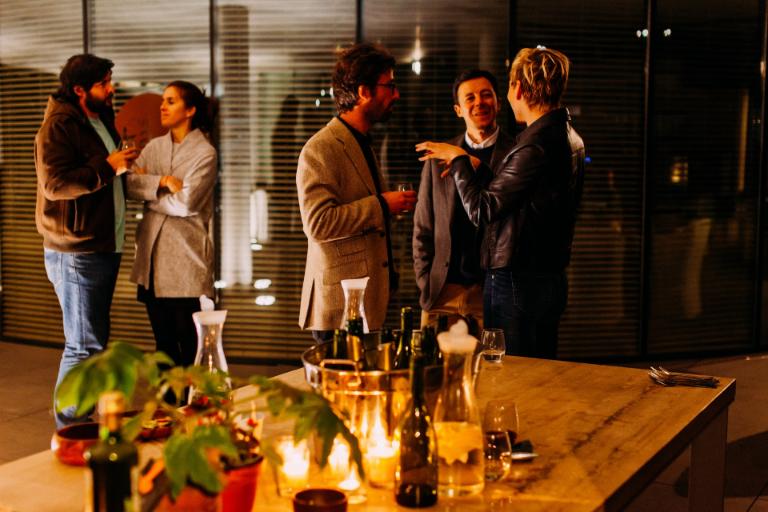 Tips for selecting your holiday party attire
To avoid problems, double-check the dress code before even opening your wardrobe. Determine what the standards are and go from there. If you're going more formal or casual than the written code, use good judgment. Maybe ask a colleague you're close with to give a bit of feedback? Share a photo over Whatsapp, see if they give you the thumbs up or not.
Corporate Party Dress Tips for Women
Keep an eye out for low-cut v necklines. A higher neckline may be quite flattering, and it will make a big impact in maintaining your professional appearance. If your outfit is feeling a little bland, a necklace is an excellent technique to add some pizzazz while still keeping it nice and professional.
Consider the point where your hemline hits. You may go higher than the usual "two inches above the knee" rule, but be careful here and don't go too short. Also, make sure you try sitting in your clothes before the party so that it doesn't show too much when seated! After all, no one wants to worry about their skirt - you're there to enjoy yourself.
Use caution when using sheer fabrics. If your event's location will be illuminated dramatically, avoid using see-through clothes since they may expose more than you anticipated. That might be a bit of a nightmare!
Corporate Party Dress Tips for Men
If you're wearing a dress shirt, make sure it's ironed or nice and flat. A smooth shirt will show that you take care of yourself and are well organised, which will appeal to your coworkers. It's a simple task that only takes a few minutes but can make a significant impact on your overall look.
Take some time to pick the right socks. There's nothing more annoying than seeing a nice-dressed guy only to discover that he's wearing white gym socks, which break the line from his knees to his toes. If you're wearing black pants and shoes, wear black socks. You want to have some fun with your style.
Your appearance extends far beyond your clothing. A clean-shaven face will keep you looking polished and elegant, much like an ironed shirt. Make sure it's clean and tidy if you want to sport a scruffy appearance with a bit of designer stubble, or a full beard.
General clothing advice for everyone
Be at ease. You don't want your clothing to stop you from having a good time if you'll be dancing and walking about a lot. Make sure the buttons on your blouse will stay closed; if you sweat easily, avoid fabrics that don't combine well, such as silk, or light coloured tops that might really show any sweat marks.
Don't be too informal. Some individuals might see the holiday gathering as an opportunity to go casual rather than dress up, and that's fine - everyone has their own preferences. At the same time, you don't want to get any more relaxed than you would on a typical Friday the office.
In other words, sandals, baggy pants In general, your goal for dressing for a company holiday party is to keep your look classy and conservative while also finding ways to show your personality and have fun. The perfect accessories, for example, can really add to your look, like a nice pair of shoes or the perfect belt. In the end, it's all about feeling good about yourself (within the guidelines of what's appropriate, of course), so make sure the outfit you choose leaves you confident and ready for some fun.