Christmas is creeping up on as faster than ever and if you're anything like us you'll be a little worried that nothing is planned for the corporate Christmas party!
2021 has been another rollercoaster year, what with troubles that Covid-19 has provided. With that in mind we're taking any opportunity to enjoy ourselves as much as possible - and we hope you can too!
Today we're sharing our tips for having the most amazing, fun and memorable virtual Christmas party in 2021. Obviously we all wish we could meet up in person, but for whatever reason (often Covid related) it's not always possible. So let's make do with a 100% virtual Christmas party!
1 - Organise a Secret Santa
This is a great virtual party idea and it'll be the perfect opportunity for your employees to show off their creative side too.

Secret Santa, as you know, is all about spending money on another colleague (£20 is a typical amount but that's really up to you!) and mixing up the name tags so everyone gets someone different. You can make this virtual by assigning people numbers or names and not telling anyone who they've bought for! They can only find out by opening what they think may be theirs.

This is quite a fun one to play virtually - you really get to watch their reaction as they unfurl that prized Barry Manilow album…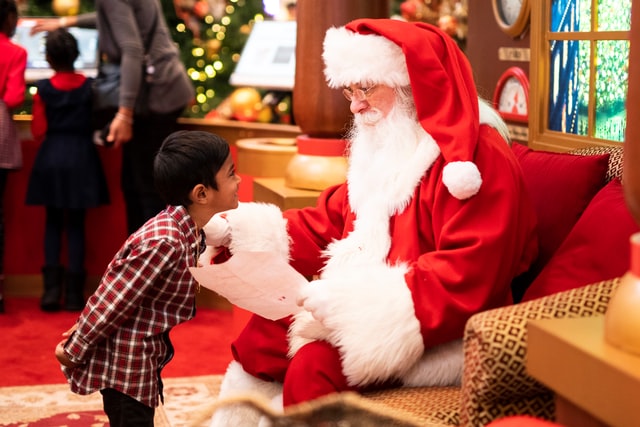 2 - Enjoy an online White Elephant or Yankee Swap
White Elephant is a fun virtual party game where people bring along a wrapped gift and put them in the middle of the virtual table - from there it's completely up to chance who may win any given present.
This virtual party idea is great because everyone gets involved, so long as they have access to an internet connection - and who doesn't nowadays?!

Yankee Swap is a more competitive version of White Elephant where each person can only open their presents one-by-one until somebody gets a better deal on the present compared to what they brought themselves. If you know your colleagues well enough then this virtual party idea could get quite heated!
3 - Host a holiday quiz showdown
Our virtual party idea is a fun one which will keep your employees occupied for the whole Christmas party. You can either host it yourself or recruit another colleague to host - they can upload pictures of their trivia questions and you download them as images (you could even use virtual post-it notes!).

Once all the questions have been uploaded, everyone will need to be in the same virtual room at the same time with access to a camera and/or screen sharing software (we recommend Google Hangouts or Zoom for this). Then it's up to you: press play on the trivia video, read out each question and let people battle it out against each other! Most virtual party ideas like this end up being great icebreakers too.
4 - Name that Christmas tune
This is a great one for those parties where there are lots of musically-minded staff members present!

You'll need to come up with a scoring system, perhaps the person who is closest without going over gets 3 points and whoever has the most points by the end wins.
You might want to keep this one short as there's only so much one person can take of Christmas music in one sitting...

This is the virtual Christmas party game of guess that song will keep everyone entertained for hours (or minutes, if you're not a fan of Xmas tunes!)

5 - Experience a Virtual Music Concert
We know virtual reality is the way of the future (and that could even be sooner than you think), but what if we told you virtual parties could give you a virtual music experience before 2021?

That's right - virtual reality concert experiences are already being pitched at major virtual concerts so people can enjoy live music from their own home. Better yet, why not pitch it as an exclusive virtual Christmas party idea and secure tickets for only your staff members!

You'll need to have access to high-quality audio speakers or headphones, virtual reality equipment and suitable seating for everyone attending your virtual Christmas party, but other than that it's completely up to you how this VR concert plays out.
6 - Watch a classic Christmas film online
This virtual Christmas party idea is a fun one because you can choose a film that's relevant to your industry, or perhaps even try and get all of your employees involved by choosing a favourite from their childhood.
To make it virtual, you'll need to download the movie so everyone on the virtual Christmas party list will be able to view it simultaneously.

With virtual reality equipment on the way it means that people may soon be watching films at home in virtual reality - which would be an excellent opportunity for everyone to take part in this Christmas party idea!
7 - Enjoy some festive baking - Mince pie anyone?
A virtual cook-off is a great idea where you could have everyone bake up their own special recipes from scratch! Or perhaps ask them all to follow along and make your own mince pies.
Whilst they might not be able to try out each others minced pie, at least they can all follow along and have a laugh doing some virtual baking. It's sure to get them in the festive mood, if nothing else!
8 - Host an Online Charity Drive
We're sure you all know by now how important it is for businesses and leaders to do their part in making the world a better place
Why not host an online virtual Christmas party idea where everyone goes virtual and donates some cash towards your favourite charity? This is also a great opportunity to promote the ideals and morals of your business.
People might feel differently about donating money to a cause, but believe us - they'll be happy to donate time instead! This might be a great way to get staff members involved in volunteering at any local, relevant charities.
9 - Christmas Karaoke Competition
I think we've clearly saved the best for last here!
Like singing? Love Christmas? Ready for karaoke?
This virtual christmas party idea is a little bit of fun and if you know all your staff members pretty well it'll be even better. To make sure everyone plays fair, you can create a scoring system so the person with the most points at the end of the virtual christmas party day has earned the title!
But do remember, it's not just about winning - virtual parties are about having fun!
This virtual Christmas party idea will get everyone involved in some singing and that means it's an excellent icebreaker and could set the tone for a bit of a wild party.
The Best Virtual Xmas Party Ideas?
Over to you - which of these Christmas party ideas would you be most likely to go for?
And which ones have we missed - be sure to let us know! Just leave us a comment below.